Welcome to Escribiente
Meetings are held on the first Wednesday of the month, and we welcome guests and members of the public who have an interest in learning more abut the fine art of beautiful writing. Please see our Meetings page for full details and directions.
Meetings
Meet and mingle with local Escribiente calligraphers at our free monthly meetings. Guests welcome, so just drop by! We meet the first Wednesday of most months at the Manzano Mesa Multigenerational Center in Albuquerque (southwest corner of Elizabeth and Southern).
December 2015
There is no meeting in December as we enjoy our annual Holiday Party & Potluck. Check your email for details.
Wednesday, November 4, 6:30pm
Topic: Monoline Madness!
Handouts: Links to two PDFs were sent by email to all members on November 3rd - check your InBox if you missed it! Contact our Webmaster if you need the link again (members only please).
Upcoming Workshop
LETTERING IN 3D!
Workshop with Julie Gray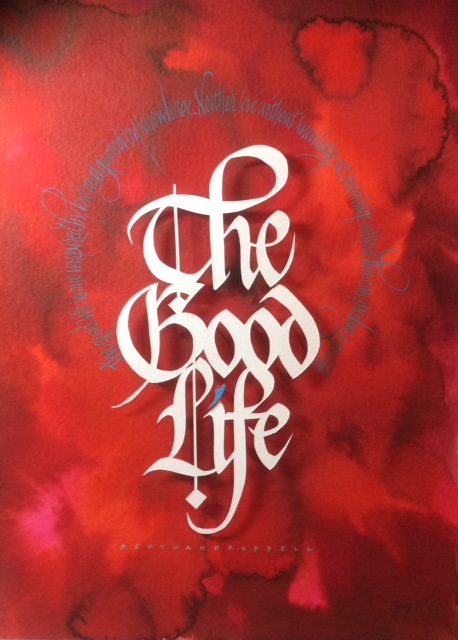 Two Days: Sat & Sun, January 23 & 24, 2016
Times: Saturday 8:30 to about 4:30; Sunday 8:45 to about 5:00
* FULL (contact Jan to get on the waiting list)
Join us as we explore ways to bring our calligraphy into a new dimension! Paper sculpture combines nicely with calligraphy to extend our artistic endeavors to a whole new level.
We will each make our favorite letter based on the alphabet from the Golden Bible, late 15th century. Then we will letter, design and cut out a word or quotation, and mount it on different levels if required. If we have time, we'll make some flowers in three dimension to add to the design. You will leave this class with a finished piece...or two! More details...
New Mexico State Fair 2015
The New Mexico State Fair is held at Expo New Mexico
Wednesday, September 10 – Sunday, September 20, 2015
Escribiente members displayed their fine art of beautiful lettering at the State Fair each year in the Creative Arts Building at NM Expo, Albuquerque.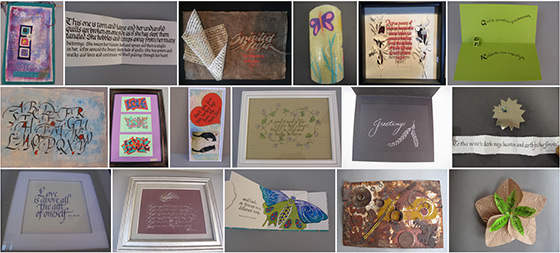 View Flickr slideshow of the Calligraphy exhibit at the 2015 New Mexico State Fair.
Summer 2015
Download Screen Resolution PDF (2.4MB), or click Cover
Download Print Resolution PDF (10MB)
Cover: Betsy Townsend's weaving of a child's lettering.
Carrai Imai Workshop: Mastering Italic (review)
Postcard Journaling, by Pat Vizzini
Photo gallery: Nancy Napier's Bookbinding Workshop
In Memory of Betsy Brown Townsend
Lettering in a Circle, by Esther Feske
Upcoming, Resources, News, and more...