Welcome to Escribiente
Meetings are held on the first Wednesday of the month, and we welcome guests and members of the public who have an interest in learning more abut the fine art of beautiful writing. Please see our Meetings page for full details and directions.
Meetings
Meet and mingle with local Escribiente calligraphers at our free monthly meetings. Guests welcome, so just drop by! We meet the first Wednesday of most months at the Manzano Mesa Multigenerational Center in Albuquerque (southwest corner of Elizabeth and Southern).
Wednesday, October 7, 6:30pm
Topic: Versals & Decorated Letters
For our October program, our librarian will share some exemplars of Versals chosen from resources in the Escribiente library. These will complement the pencil versals we studied recently with Amity Parks, but will also stand as a self-contained guide as well:
To practice, bring:
- pencils and sharpener, or
- fine monoline pens (such as Pigma Micro 01)
- paper or pad (translucent paper will allow you to trace)
- ruler for guidelines
Decorated Caps:
We will also distribute copies of Lombardic Capitals from the library (from Tina Vicker's treasured scrapbook). These fun & creative capitals can be used for tracing onto cards and embellished with all those gold, silver and sparkly metallic pens that you buy and never know what to do with (don't let them dry out before you use them!).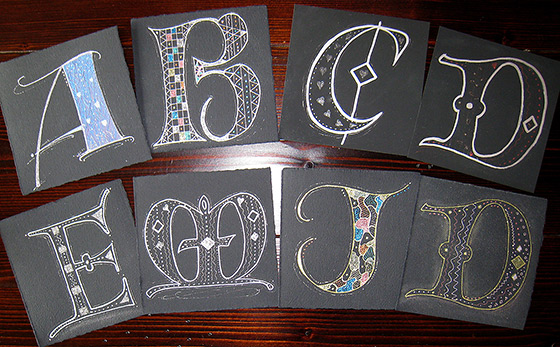 Trish will share a technique for using white carbon paper (supplied) on black paper to capture the outline of these large capital letters. This was the technique she used to create dozens of decorated initial capitals for a LIBROS collaborative project (see images). You can use the same technique for embellishing cards, bookmarks, and other fun projects:
To practice, bring:
- black paper (some will be available)
- gel pens that will show on black (think white, gold, silver, color, sparkly)
- note: you can also use watercolor paper and outline in black carbon paper; if so, bring your watercolor palette and brush.
Be prepared to do a show & tell at the end of the program so we can share ideas! Also if you studied Versals or Decorated Capitals previously, please bring along some samples to share with the guild!
Upcoming Workshop
LETTERING IN 3D!
Workshop with Julie Gray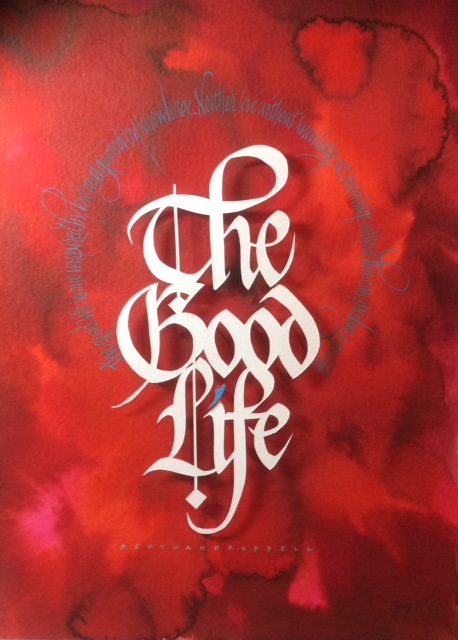 Two Days: Sat & Sun, January 23 & 24, 2016
Times: Saturday 8:30 to about 4:30; Sunday 8:45 to about 5:00
Join us as we explore ways to bring our calligraphy into a new dimension! Paper sculpture combines nicely with calligraphy to extend our artistic endeavors to a whole new level.
We will each make our favorite letter based on the alphabet from the Golden Bible, late 15th century. Then we will letter, design and cut out a word or quotation, and mount it on different levels if required. If we have time, we'll make some flowers in three dimension to add to the design. You will leave this class with a finished piece...or two! More details...
New Mexico State Fair 2015
The New Mexico State Fair is held at Expo New Mexico
Wednesday, September 10 – Sunday, September 20, 2015
Escribiente members displayed their fine art of beautiful lettering at the State Fair each year in the Creative Arts Building at NM Expo, Albuquerque.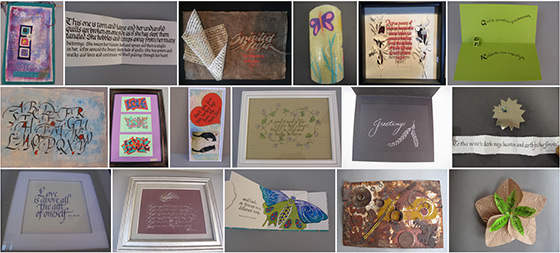 View Flickr slideshow of the Calligraphy exhibit at the 2015 New Mexico State Fair.
Summer 2015
Download Screen Resolution PDF (2.4MB), or click Cover
Download Print Resolution PDF (10MB)
Cover: Betsy Townsend's weaving of a child's lettering.
Carrai Imai Workshop: Mastering Italic (review)
Postcard Journaling, by Pat Vizzini
Photo gallery: Nancy Napier's Bookbinding Workshop
In Memory of Betsy Brown Townsend
Lettering in a Circle, by Esther Feske
Upcoming, Resources, News, and more...