Welcome to Escribiente
Meetings are held on the first Wednesday of the month, and we welcome guests and members of the public who have an interest in learning more abut the fine art of beautiful writing. Please see our Meetings page for full details and directions.
Meetings
Meet and mingle with local Escribiente calligraphers at our free monthly meetings. Guests welcome, so just drop by! We meet the second Wednesday of most months at the Manzano Mesa Multigenerational Center in Albuquerque (southwest corner of Elizabeth and Southern).
Wednesday, September 2, 6:30pm
Topic: Show & Tell – Envelopes
Show & tell envelopes on display to drool over, make you smile, please the soul, give you great ideas even State Fair ideas, and simply enjoy. In addition we will have tables set up where you can watch members doing these different techniques and try them yourself. It will be a fun evening. Hope you will be able to join us!
As usual a short meeting will follow so there will be ample time to view the envelopes on display and try your hand at techniques shown. Bring an envelope or two if you want, some will also be supplied.
New Mexico State Fair 2015
The New Mexico State Fair is held at Expo New Mexico
Wednesday, September 10 – Sunday, September 20, 2015
Escribiente members display their fine art of beautiful lettering at the State Fair each year in the Arts & Crafts building.
Upcoming Workshop
A Sharp Pencil and a Keen Eye
Graphite Techniques for Calligraphers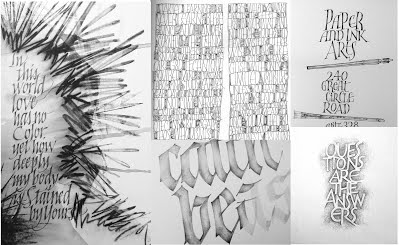 Workshop with Amity Parks
Two Days: Sat & Sun, September 26 & 27, 2015
Times: Saturday 8:30 to about 4:30; Sunday 8:45 to about 5:00
All Skill Levels, although some calligraphy experience is helpful.
In this class, the humble pencil and its relatives become powerful tools in creating many effects from subtle to stunning. We will use pencils, erasers, graphite sticks/blocks, powdered graphite and their water-soluble cousins to explore the possibilities of this medium for creating refined works of art to quickly made drawings in our sketchbooks. More details...
Now is the time to prepare for the upcoming NM State Fair!
New Mexico State Fair 2015
The New Mexico State Fair is held at Expo New Mexico
Wednesday, September 10 – Sunday, September 20, 2015
For entry requirements, download the Calligraphy PDF from the Creative Arts page.
Entry Dates
Friday, August 28, 9am – 5pm
Saturday, August 29, 9am–5pm
For download rules for other Divisions, visit the Creative Arts Entries & Rules page.
Acrobat Reader may be required to read PDFs (free from Get Adobe Reader).
Summer 2015
Download Screen Resolution PDF (2.4MB), or click Cover
Download Print Resolution PDF (10MB)
Cover: Betsy Townsend's weaving of a child's lettering.
Carrai Imai Workshop: Mastering Italic (review)
Postcard Journaling, by Pat Vizzini
Photo gallery: Nancy Napier's Bookbinding Workshop
In Memory of Betsy Brown Townsend
Lettering in a Circle, by Esther Feske
Upcoming, Resources, News, and more...
Mark Your Calendar
Workshops in the pipeline include Amity Parks (last weekend of September 2015), Julie Gray (January 2016), and Heather Held (April 2016).
View Photos from the Carrie Imai workshop on our Flickr page.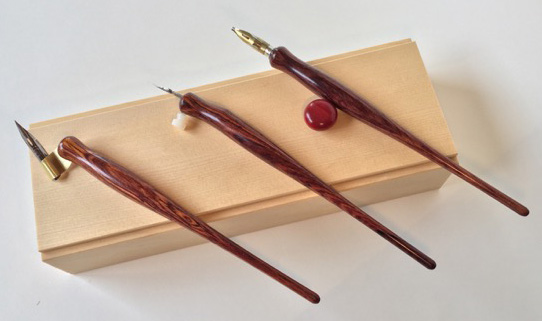 Many thanks to Rodger Mayeda who graciously donated his time and talents to create a very special prize for our Holiday Party raffle in December. The prize included one oblique pen fitted for a Nikko G nib, a flourishing pen of his own design, and a straight pen. All pens were made from the same piece of rosewood. The pen box was made from old growth Alaskan Yellow Cedar and the knob on the pen box is made from a very valuable piece of pink ivory wood. Thank you Rodger!
If you would like to order your own unique pen holder, visit Etsy.com/RodgersPenBox. Read about their construction here.
New Mexico State Fair 2014
The New Mexico State Fair is held at Expo New Mexico
September 10–21, 2014

View Flickr slideshow of the Calligraphy exhibit at the recent New Mexico State Fair in the Creative Arts Building at NM Expo, Albuquerque.
The New Mexico State Fair is held at Expo New Mexico
September 11–22, 2013

Our calligraphy exhibit was held at the Arts & Crafts building, and included many amazing pieces of high quality works that are worthy of exhibition in any venue.
July 8–13, 2013

IAMPETH is a non-profit organization with over 500 members throughout the world. IAMPETH stands for International Association of Master Penmen, Engrossers and Teachers of Handwriting. Bill Kemp, a member of Escribiente, was the 2012–2013 president and hosted the annual conference in Albuquerque in July 2013.
There were over 220 attendees and approximately 22 of them were Escribiente members. Among the sixteen volunteer instructors were Pat Blair, the chief calligrapher at the White House and Louis LeMoine who works for Walt Disney Imagineering. The conference gave everyone insight into the work of superb quality penmen. Visit the IAMPETH website for more info.