Welcome to Escribiente
Meetings are held on the first Wednesday of the month, and we welcome guests and members of the public who have an interest in learning more abut the fine art of beautiful writing. Please see our Meetings page for full details and directions.
Meetings
Meet and mingle with local Escribiente calligraphers at our free monthly meetings. Guests welcome, so just drop by! We meet the first Wednesday of most months at the Manzano Mesa Multigenerational Center in Albuquerque (southwest corner of Elizabeth and Southern).
March 2, 2016, 6:30pm
Program topic: Round Robin Tips & Techniques. More info TK.
Information about Literally Letters workshops at Ghost Ranch (June 2016) has been posted to our Workshops page (right side).
Workshops
Our next workshop with be Flourishing with Heather Held on April 23 & 24, 2016.
Contact Jan Florence to reserve your space.
Our recent Lettering in 3D workshop with Julie Gray was fabulous! Click the image below to view class images on Flickr, or read more about this workshop (with images from Julie).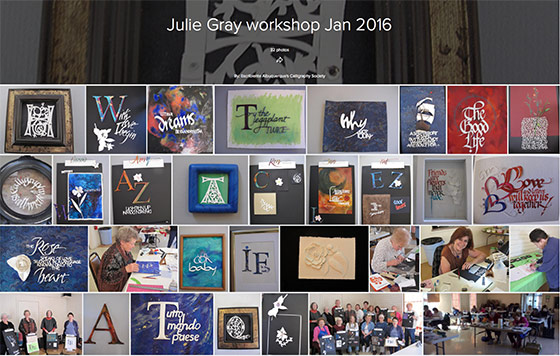 New Mexico State Fair 2015
The New Mexico State Fair is held at Expo New Mexico
Wednesday, September 10 – Sunday, September 20, 2015
Escribiente members displayed their fine art of beautiful lettering at the State Fair each year in the Creative Arts Building at NM Expo, Albuquerque.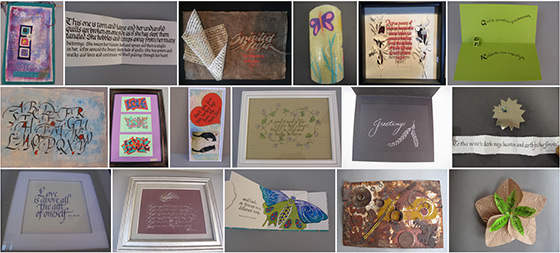 View Flickr slideshow of the Calligraphy exhibit at the 2015 New Mexico State Fair.
Summer 2015
Download Screen Resolution PDF (2.4MB), or click Cover
Download Print Resolution PDF (10MB)
Cover: Betsy Townsend's weaving of a child's lettering.
Carrai Imai Workshop: Mastering Italic (review)
Postcard Journaling, by Pat Vizzini
Photo gallery: Nancy Napier's Bookbinding Workshop
In Memory of Betsy Brown Townsend
Lettering in a Circle, by Esther Feske
Upcoming, Resources, News, and more...
Artisan Crafted Penholders
Escribiente member Rodger Mayeda crafts beautiful penholders and sells them through his Etsy store. If you'd like to order, order on the first of each month, as Rodger closes his store as soon as he has enough work for each month!