Welcome to Escribiente
Meetings are held on the first Wednesday of the month, and we welcome guests and members of the public who have an interest in learning more abut the fine art of beautiful writing. Please see our Meetings page for full details and directions and download our Newsletters for reviews and photos from our workshops and programs.
Meet and mingle with local Escribiente calligraphers at our free monthly meetings. Guests welcome, so just drop by! We meet the first Wednesday of most months at the Manzano Mesa Multigenerational Center in Albuquerque (southwest corner of Elizabeth and Southern). More details on our Meetings page.
Wednesday, June 6, 2017, 6:30pm
(Q&A in lobby 5pm; social time 6pm)
The Pressure's On
Presented by Bill Kemp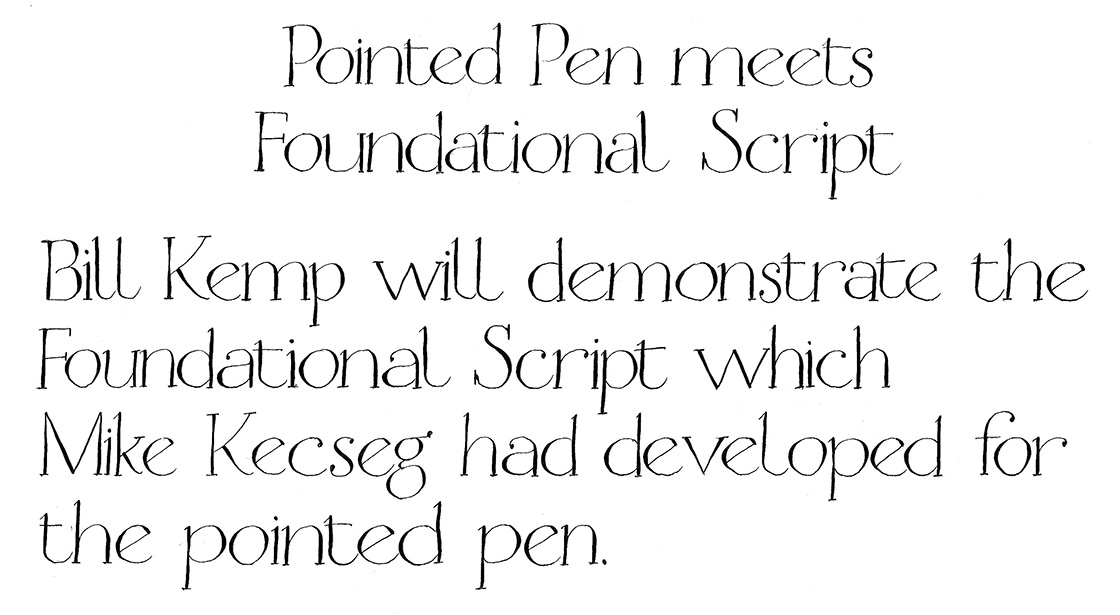 The year of Bookhand/Foundational is coming to a close yet would not be complete without a bit of pointed pen experimentation. Members will be briefly introduced to the pointed pen and then move on to the ups and downs of creating thick and thin strokes using pressure and release directly on a provided handout. Pointed pen calligraphy produces an especially pleasing texture and offers a sound foundation for further exploration and design.
Supplies to bring:
A Nikko G pointed nib (available for purchase at meeting, $2 each)
An offset nib holder or straight nib holder
A bottle of ink, with dinky-dip container
seat cushion (for added height)
Escribiente will supply the paper for you to use at the meeting
More details for purchasing materials on our Meetings page...
Latest Newsletter
2018–2 (May)
Download Screen Resolution PDF (4MB), or click Cover
Download Print Resolution PDF (15MB)

Archaeologists discover astounding artifacts
Holiday fundraiser for NM Cancer Center review
Workshop review: Folded Pen Lettering with Yukimi Annand (Letters 2018)
Workshop review: Letters of Whimsey with Janet Takahashi (Letters 2018)
Workshop review: Pointed Pen with Attitude with Barbara Close (Letters 2018)
Ghost Ranch Literally Letters 2018 – class previews
Enchanted Calligraphy – 40th Anniversary Exhibition photo gallery
Foundational Hand – Randall Hasson workshop photo gallery
ABC's of Flowers
New Mexico State Fair 2017
Escribiente members exhibit each year at the New Mexico State Fair in the Creative Arts Building at the NM Expo during the month of September. The Juror for 2017 was Randall M. Hassan.
View Slideshow of this year's entries on our Flickr account.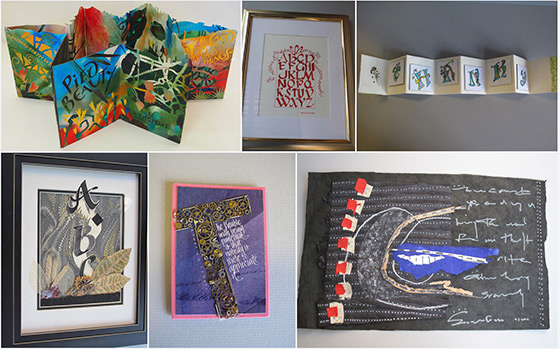 Weathergrams Installation
Open Space Visitor Center, 6500 Coors Blvd. NW, Albuquerque NM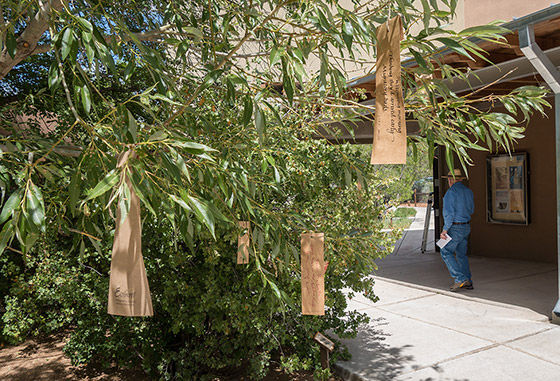 In conjunction with local poets, Escribiente members calligraphed hundreds of Weathergrams that were hung on trees around the Open Space Visitor Center grounds as a temporary art installation starting in mid-May 2017.
As a fundraiser during the Poets Picnic event on May 20th, our members also created custom Weathergrams for poets. Trish Meyer created 200 copies of a limited edition poetry chapbook featuring artwork from Julie Gray, Beth McKee, Caryl McHarney, and Janice Gabel (all eight images are shown below). Along with other event sales, over $1500 was raised for Open Space Alliance, a nonprofit organization whose purpose is to promote public awareness and conservation of Open Space lands.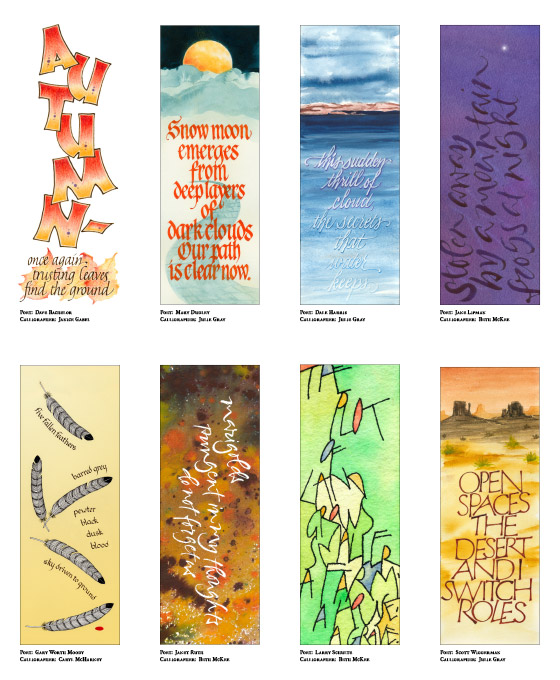 If you haven't been to the Open Space Visitor Center on Coors Blvd NW, check out their website.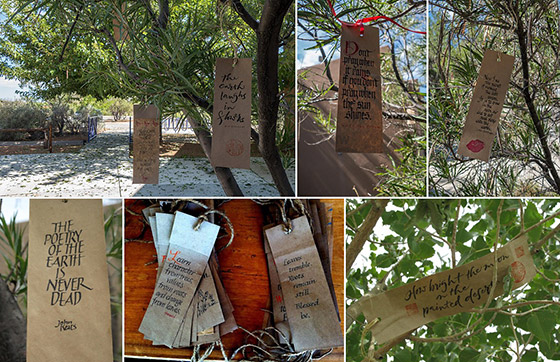 Escribiente Mentor Program
Escribiente has a mentor program for new members. Our objective is to assist new members with calligraphy and the many things associated with it. This is not designed to teach a hand, but to assist with various techniques and questions such as:
How do you do that?
I want to do this – but where do I start?
What should I use ( i.e. ink, tool, paper)?
Guidelines?
I can't make that letter, what am I doing wrong?
Squash??? Well that is what it sounded like. (Gouache)
Can you do calligraphy on this?
And the many more questions that we all had when we were first starting out.
It will not all be on your shoulders, if you don't know the answer you can find out or refer them to another member that you think would know the answer. But the best thing that will happen is the possible friendship that may develop for you and Escribiente. This will make the new member gain confidence in their ability as a calligrapher and feel like one of us (experienced calligraphers anyway) much faster. I remember the excitement of looking at all the strange tools, the mystery of how do they make those pens make letters like that and many other questions.
If you are interested in becoming a Mentor or having a Mentor, contact Jan Florence: H 505-281-5771 (call first) - C 505-269-8867; email: