Meetings
Members and guests of Escribiente meet the first Wednesday of the month at 6:30pm. (No meetings are held in January, July and December, unless noted.)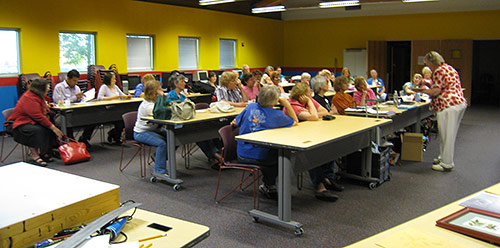 We feature an informative program for all levels of calligraphy at each meeting, including speakers, hands on projects, social time to meet other calligraphers, and generally a good learning atmosphere. Everyone with an interest in creating beautiful letters is welcome!
Calendar
Meet and mingle with local Escribiente calligraphers at our monthly meetings. Guests are welcome. Please note that these programs may be subject to change. (Members receive email reminders one week beforehand, and new members are encouraged to meet earlier for Q&A in the lobby.)
Programs 2018 – 2019
To guide us, and better serve our members, the Programs and Workshops Committees chairpersons (Patty Hammarstedt and Beth McKee) have developed a Mission Statement:
"Our mission is to ENCOURAGE the study and practice of Calligraphy as a craft and art form, to FACILITATE individual excellence, and to CULTIVATE understanding and appreciation of its history through conduction of sponsored programs, workshops and activities that EDUCATE, INFORM and INSPIRE through instruction as well as free interchange of ideas and techniques.
With that in mind, the committees have decided to focus on a different 'theme' each year. During 2017–18 we focused on Bookhand/Foundational, which is upright alphabet with a 30 degree pen angle devised by master penman and typographer Edward Johnston in the early 20th century.
The 2018-19 Programs and Workshops will encourage enjoyment and experimentation around the theme of CAPITALS. Our two workshops will be with Joke Boudens in November 2018, and Annie Cicale in April 2019.
Join us for a fun year of exploring! – Patty & Elizabeth
View previous meeting announcements:
MONDAY, November 5, 2018, 5:30pm
Presentation by Joke Boudens
plus Potluck and Benefit Raffle

*** The November program has moved to the first MONDAY and will be held in a larger room at Manzano Mesa (through the main entrance lobby, back right).
We will start at 5:30pm with a member potluck!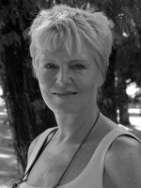 Joke Boudens will be teaching the weekend prior (November 3–4) and will be giving a presentation on the Monday evening following the workshop.
Joke is a Flemish lettering artist and teacher, living and working in the beautiful medieval town of Bruges, Belgium. Her work has frequently been shown in Letter Arts Review and has been exhibited in the US, Japan and Europe. In the last decade she has taught calligraphy in Europe, the US and Canada.
With a calligrapher father and a visual arts graduate mother, Joke grew up surrounded by art and letters. "My inspirations include 'outsider' and folk art', shaker style." says Joke. "I love music, children's book illustrations, typography, languages, everything to do with nature. I enjoy gardening, walking in the warm evening sun, reading books and take a guilty pleasure in quizzes and puzzles. My work is in many private collections in Belgium and abroad, including that of the Belgian royal court."
Benefit Raffle: We will also hold a benefit raffle for the Pen Fund, which supplies free pens for members when they teach calligraphy at Albuquerque public schools. Please donate a little treasure for the raffle! We encourage original calligraphic art, as well as tools, ink or paper you feel members would love!
If you are attending the workshop, please bring your work for the Show & Share table.
Saturday, December 1, 6pm
Member Holiday Party
Details and location are emailed to members. Spouses and partners are very welcome! Members bring an appetizer or desert, and Escribiente supplies the entree.
Optional: If you'd like to participate in the gift exchange, please bring a small calligraphic art-related item or original art.
January 2, 2019
Board Meeting
Board meetings are held in July and January at the usual meeting location. All members are welcome to attend.