Calligraphy Classes
In addition to our major workshops, Escribiente members also offer local classes in Albuquerque and Rio Rancho areas, as well as online via Zoom.
Please contact the individual instructor to register. Please note that some classes are small and usually sell out, but contact the instructor anyway as there are often last-minute cancellations. See the Membership page if you'd like to join and receive advance notice of upcoming classes, and be sure to Follow us on Facebook as we keep our page updated with new Classes.
Intermediate Pointed Brush Class
Instructor: Elizabeth McKee
Thursday mornings starting March 23, 2023 * ONLINE
To register: For more information, a course outline and payment details, please contact Elizabeth at https://elizabethmckeebooks.com/contact-me
Check her website for upcoming classes.
Introduction to the Pointed Pen
Instructor: Bill Kemp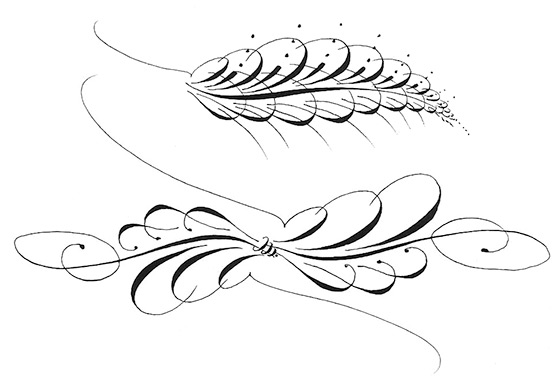 Date: October 24, 2020 * ONLINE via ZOOM
Time: 10:00am – 4:00pm
Location: ONLINE
Class fee: $70 (check, or ask about Paypal option). Price includes bound workbook & paper (value $20), which will be mailed to each student after payment is received.
# of Students: Minimum 6 – Maximum 15 (open to all)
To register: Email Bill Kemp:
In this one-day class, you'll learn how to use the pointed pen to create both ornament designs (above) and an elegant script (below).
In the morning session, you will first practice creating curved strokes – called "compound curves" – using either an oblique or a straight pen holder. You will then build on these basic flourishing techniques to draw a feather, cartouches and other designs. (They might look difficult, but they are easy once you know how!)
During the afternoon session you will learn a simple but graceful alphabet called Weaver Writing. This is a great script for beginners because it only has 26 letters – no capitals! All the letters use the basic strokes you learned in the morning, so you'll be writing words in no time!
Skill level: All  
Supply list:  See Bill's page on John Neal's website for a handy shopping list!
An oblique pen holder; suggest a Nikko G nib or Gillott 1068A (experienced individuals can use their favorite nib); McCaffery ink (any color) or your favorite ink used with the pointed pen (other suggested inks would be Palace Moon, Sumi or Old World Ink); since there will be a limited amount of guide sheets in your handouts, an alternative paper would be the grid-square paper (5 squares per inch) pads from Rhodia or Clairefontaine tablets.  All of the supplies here could be used in other classes.
BILL KEMP, from Albuquerque, New Mexico, is a lettering artist and Engrosser, and has been practicing his craft with the pointed pen for over 30 years. He has studied with such instructors as Dick Jackson, Gwen Weaver, Mike Kesceg and his mentor, William Lilly. Bill is a Past President of IAMPETH, and teaches regularly at IAMPETH Conventions and across the country
Email Bill for more information:
Visit Bill's website.