Meetings
Members and guests of Escribiente meet the first Wednesday of the month at 6:30pm. (No meetings are held in January, July and December, unless noted.)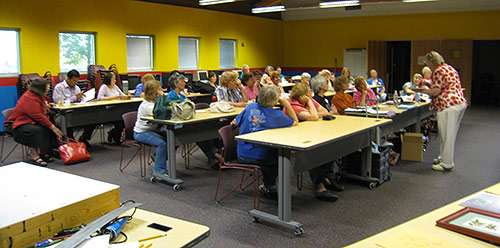 We feature an informative program for all levels of calligraphy at each meeting, including speakers, hands on projects, social time to meet other calligraphers, and generally a good learning atmosphere. Everyone with an interest in creating beautiful letters is welcome!
Calendar
The Escribiente Program theme for the 2021–2022 year is Writing Fluids. Each program will feature a different writing fluid from those that are made with dirt and ashes to more modern solutions like acrylic inks to ferric ammonium citrate and potassium ferricyanide for cyanotype. While we have been focusing on our perfect letters and tools, millions of people around the world have been making paints and inks for us to write with. Please join us on this intriguing journey. – Elizabeth McKee, Program Chair
Escribiente will be hosting our programs online with in-person workshops where possible. We will miss meeting in person, but our members from out-of-town can now enjoy our programming and it is easier to have guest artists too! Please note that these programs may be subject to change. Members receive email reminders one week beforehand.
Members receive email notices for all programs and workshops.
Live Zoom meetings are open to members only. The Zoom replay will be available for a limited time to members after the meeting. An edited replay will be posted to our YouTube channel after editing, provided permission is granted from the presenter.
Wednesday, February 2, 2022 @ 6:30pm
Zoom meeting info will be emailed to current members. Please log in at 6:15pm.
Bister Inks
Presentation by Amity Parks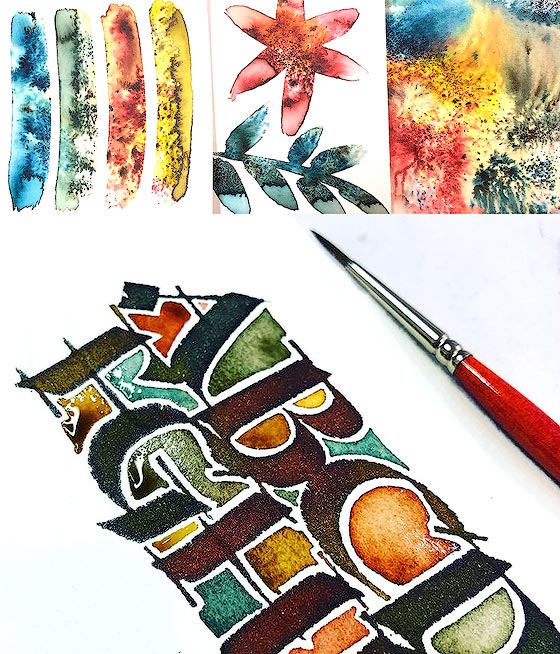 If you've been hearing about Bister inks and wondering what the fuss is all about, then join Amity 'live' on Zoom as she demonstrates different ways to use these rich and earthy ink powders. She will start with showing you how to mix them and use Bister inks in a broad-edged pen, and then she will touch on ways to create bold background effects.
Amity Parks is an artist and calligrapher living in Missoula, Montana. For many years she has been studying calligraphy in weeklong and private tuition classes with internationally renowned instructors. She holds a Bachelor of Fine Arts degree from the University of Tulsa, and a Master of Fine Arts degree from the University of Montana. Her work has been featured in national and regional exhibits and publications. She has been a long-term active member and teacher in her local and state calligraphy guilds and travels within the US and internationally to teach workshops, including serving on the faculty for multiple International Lettering Arts Conferences, for the SSIW Conference in Melbourne, Australia, the Midwest Art and Lettering Retreat, Letters California Style and LaRomita School of Art in Umbria, Italy. More information and artwork can be found on Facebook, Instagram and at her website, amityparkslettering.com
Wednesday, March 2, 2022 @ 6:30pm
Zoom meeting info will be emailed to current members. Please log in at 6:15pm.
Winsor & Newton Calligraphy Inks
Presentation by Carol DuBosch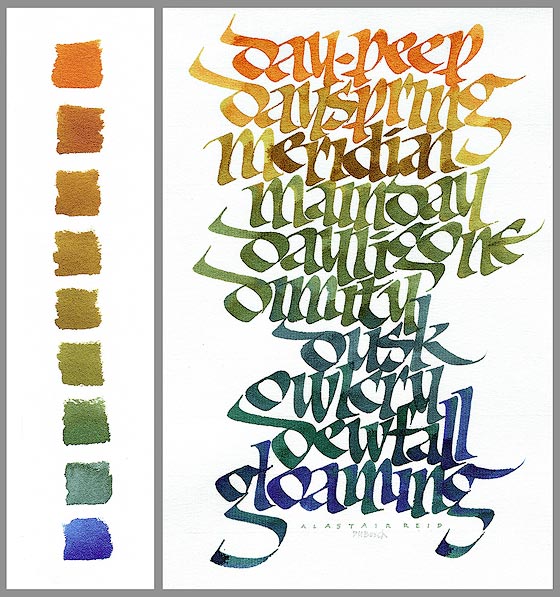 Carol DuBosch is excited to share what she has learned about the Winsor & Newton Calligraphy Inks. These inks are densely pigmented, lightfast, watersoluble, and work with any tool: edged pen, pointed pen, folded pen, brush, and fountain pen. The colors blend easily with one another. Mixing the Yellow Ochre with the Dark Blue creates a most exciting palette of muted tones, whether you are using the inks full-strength or diluted. Carol will share her experience with these two colors and the many pieces of art she has create using only two colors!
Carol has been a calligrapher in Portland, Oregon since she was first introduced to nibs and ink in 1959 as a high school art student. In the years since, she has gained a degree in Graphic Design and has studied with every major calligrapher in the US and Europe. She has taught college level and private classes in the Northwest along with workshops throughout the United States and Italy. She has also directed three International Calligraphy Conferences in Portland, bringing 500 scribes together for a week of studying and sharing.
She is interested in every aspect of the field of calligraphy from the formal invitation to writing on walls. She enjoys seeking out ways to stretch the boundaries of her art. As a life-long learner, she is always looking forward to the next new thing. Visit Carol's website.
Wednesday, April 6, 2022 @ 6:30pm
Zoom meeting info will be emailed to current members. Please log in at 6:15pm.
Lettering with Chalk Ink
Presentation by Heather Martinez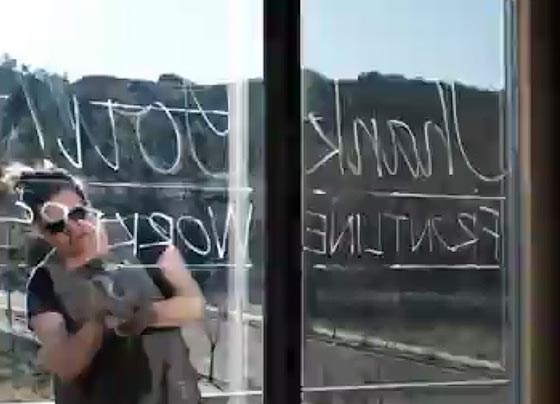 Heather Martinez will share works created using three different types of chalk ink: semi-permanent, wet wipe, and handmade chalk paint using construction chalk. She will cover the different brands, surfaces, uses and when to use which types. She will then give tips on choosing lettering styles and tools for the project, pro tips for sign painting, and cheats for personal projects. 
If you are familiar with this medium, bring your chalk inks, substrates and ideas you have on hand so we can share, brainstorm, and refine your workflow after Heather's demo of how to work small on glass.
Heather Leavitt Martinez is a visual practitioner, art coach and lettering artist living in Durango, Colorado. After studying with master sign painters, graffiti artists, and calligraphers – which she continues to do today – Heather decided to translate what she learned to teach other visual practitioners the tradecraft of breaking down any lettering styles into the professional tools they use in their work. Heather believes that what we write on the wall is more than mere handwriting – letters are the building blocks of communication.
Heather's graphic recording work has been featured in Letter Arts Review where she was named an Amanuensis to master calligrapher, Mike Gold. A peak-career experience that bridges the gap between art and being a visual practitioner.
Neuland Ambassador, Heather's award-winning book, Lettering Journey was inspired by her North American cross-country trip. You can sign up for her free online course Unlock Your Neuland Markers at LetsLetterTogether.com.
Wednesday, May 4, 2022 @ 6:30pm
Zoom meeting info will be emailed to current members. Please log in at 6:15pm.
Cyanotype as Ink
Presentation by Trish Meyer