Meetings
Members and guests of Escribiente meet the first Wednesday of the month at 6:30pm. (No meetings are held in January, July and December, unless noted.)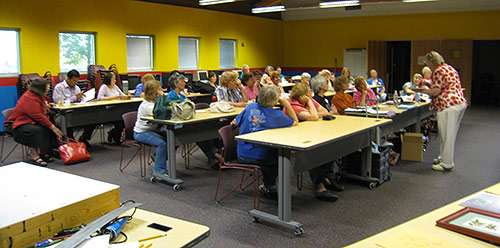 We feature an informative program for all levels of calligraphy with a mix of presentations and hands on projects. Everyone with an interest in creating beautiful letters is welcome to join!
Calendar
Escribiente now hosts of programs online with two workshops in the Spring and Fall (in person where possible). We also aim to host monthly meetups in person on the third Saturday from 1–3pm (check your email for location). We will miss having programs in person, but our members from out-of-town can now enjoy our programming and it is easier to have guest artists too! Members receive email reminders one week beforehand.
Members receive email notices for all programs and workshops.
Live Zoom meetings are open to members only. The Zoom replay will be available for a limited time to members after the meeting. An edited replay will be posted to our YouTube channel after editing, provided permission is granted from the presenter.
Schedule:
Saturday, May 20. Poets Picnic Event at the Open Space Visitor Center, 6500 Coors Blvd. NW, Albuquerque NM. Calligraphy demonstrations (volunteers needed). Contact Sharon Shannon to volunteer (this is a fundraiser for Open Space Alliance).
Wednesday, June 7, 2023 @ 6:30pm * Online via Zoom
Members are encouraged to sign in at 6:15pm.

Members Show & Share
Tree Quotes Exchange (via Padlet)
Quote: For all the gifts they give us, thank a tree.
Caryl McHarney
Write out your version of this quote in any style on whatever substrate you choose and enter it in the Tree Quotes Exchange!
Before the June 7, 2023 meeting, load images of your artwork onto the Escribiente Padlet (check your email for the link). Each piece uploaded will be given a number and each person who participates will have their name put on Sharon's Spinning Wheel. During the meeting, you will have a chance to talk about your work. Then Sharon will spin the wheel and one of the other participants will win your piece (at which point their name will be removed from the wheel).
If you will not be available for the meeting, you can still participate by sharing your work on the Padlet and adding information in the caption. Your name will still go on Sharon's Spinning Wheel. Someone will win your piece and you will be eligible to win someone else's.
Exchange: For members who live in Albuquerque, the physical transfer of our wonderful work can take place in person on the 17th of June at the Heights Cumberland Presbyterian Church, 8600 Academy Road NE, Albuquerque, from 1-3 pm. Other works will need to be mailed to the recipient so consider the size of your piece when designing.
Upcoming programs & events – please check your email for more details!