Welcome to Escribiente
Meetings are held on the first Wednesday of the month, and we welcome guests and members of the public who have an interest in learning more abut the fine art of beautiful writing. Please see our Meetings page for full details and directions and download our Newsletters for reviews and photos from our workshops and programs.
UPCOMING WORKSHOP:
The Inside Curve: Drawn Letters
In-Person Workshop in Albuquerque, New Mexico * 3 SPOT LEFT
Saturday & Sunday, April 22–23, 2023
Registration Form: Download PDF * OPEN NOW TO NON-MEMBERS (same price!)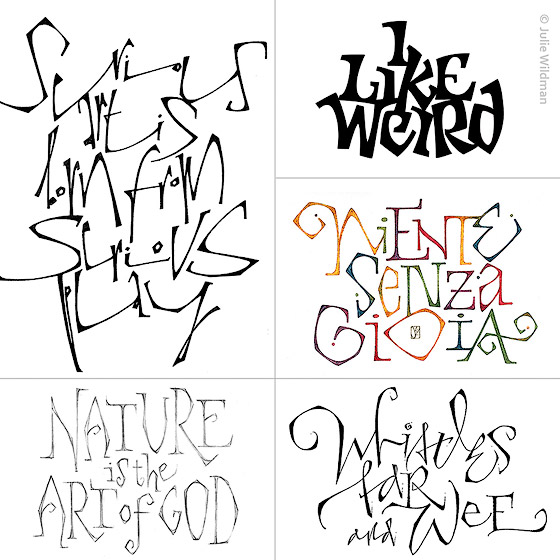 This playful hand was created several years ago while I was in a workshop. I was working on a specific piece and the instructor noticed that I was keeping an inside curve on the letters, while doing the outside angular.
Later, in another workshop, I pulled out that piece and designed the 'Niente Senza Gioia' piece you see in my samples.
The distinctive features of the letterforms are the inside curve, while the outer part of the letter is angular. How that is achieved is where the fun comes in! These letters are primarily meant to be drawn, not lettered with a specific tool. However, once students understand the underlying structure, these built-up letters can lend themselves to a variety of applications.
Together we will learn the basic forms, then branch out into variations. We will work with pencil, colored pencil, various inks, watercolors and metallics on an assortment of papers. We will also try a few compositions, working with layout and design principles to achieve some interesting results.
Suitable for beginners and experienced letterers alike. Sign up today!
Monthly programs take place in two sessions from August through November, and from February through June. Check our Meetings page for more details on upcoming meetings.
PROGRAM: Wednesday, April 5, 2023 @ 6:30pm * Online via Zoom
Members are encouraged to sign in at 6:15pm.

Flourishing a Leaf
Hands-on program with Bill Kemp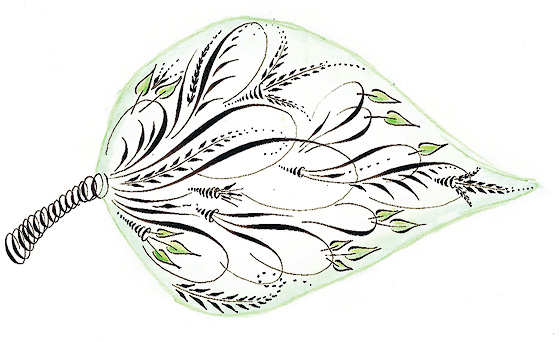 Master calligrapher Bill Kemp presents an interactive program using a pointed pen.
Inspired by the flourishing of Heather Held, Bill will show us how to use some simple strokes of compound curves and cartouches to illustrate an elegant and colorful leaf. Gather up these supplies to follow along on April 5th.
Pointed pen, Bill will be using a Nikko G nib, but use what is most comfortable for you.
Straight or oblique pen holder
Your favorite ink for the pointed pen. Bill will be using Tim Norton Walnut Drawing Ink.
Colored pencils
Optional: Pastel coloring chalk, to accent the leaf.
Paper: Bill suggests a heavy paper, like Hot Press watercolor paper. He will be using Fabriano 90 lb paper.
Bill Kemp has been a lettering artist for over 40 years, focusing primarily on Engrosser's Script. He has studied with the late Mr. Dick Jackson, the late Ms. Gwen Weaver, Master Penman Mr. Mike Kesceg, Deny Knight, John Stevens and his mentor Master Penman Mr. William Lilly, earning a Certificate of Merit, in Engrosser's Script, with Mr. Lilly. Bill has also served as president of IAMPETH and of Escribiente. He has taught at many IAMPETH conferences. Bill currently teaches through the Gentle Penman and teaches for other guilds around the country and internationally, alongside running his own calligraphy business in Albuquerque, New Mexico.
Visit Bill's website.
Members receive email notices for all programs and workshops.
Live Zoom meetings are open to members only. The Zoom replay will be available for a limited time to members after the meeting. An edited replay may be posted to our YouTube channel after editing, provided permission is granted from the presenter.
Upcoming programs – please check back for more details!
Program: Weds, May 3. Presentation by Caryl McHarney on Nature Journals.
Program: Weds, June 7. Members Show & Share on Padlet. Tree Quotes by members for exchange.
For more details and upcoming programs, please see our Meetings page...
45th Anniversary Exhibition
The Love of Calligraphy
February 4 –  March 16, 2023
Reception: Friday, February 17, 5–6:30pm.
Placitas Community Library, 453 NM-165, Placitas, NM 87043 – [Google Maps]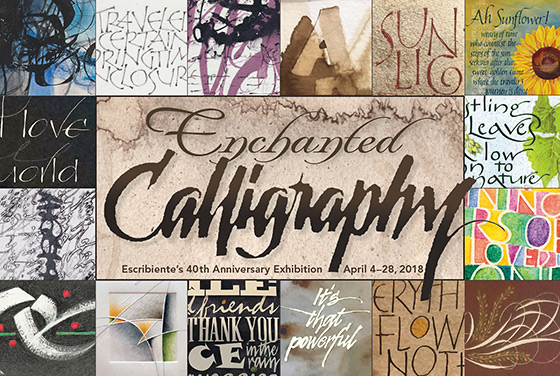 Escribiente celebrates its 45th anniversary with a member exhibition of calligraphic art at the Placitas Community Library, NM. "The Love of Calligraphy" showcases a diversity of styles and techniques from delicate ornate flourishing to abstract mixed media art.
Drop by the library on Saturday, February 25, 2–4pm and take home a personalized bookmark created by Escribiente calligraphers. As you watch the demonstrations, you'll learn about how different tools – from metal nibs to pointed brush – are used to create a wide variety of different calligraphic hands.
Latest Newsletter
Back issues are available for download on our Newsletter page.
2022-4 (December)
Download Print Resolution PDF (15MB) (can also right-click and select Download Linked File)
Edited by Lynda Lawrence.
Bookmarks at Isotopes Art Night
New Mexico State Fair 2022 Photo Gallery
Cherry Hills Library exhibit
Beth Lee Capitals as Text... November Workshop: Photo Gallery & Review by Maria Mercado
Skeleton Forms of Roman Capitals
Cover art: Patty Hammarstedt
New Mexico State Fair 2022
Escribiente exhibited in the State Fair at Expo New Mexico. See our Exhibits page of a list of award winners.
Escribiente members exhibit each year at the New Mexico State Fair in the Creative Arts Building during the show. View more images in the Autumn 2022 Newsletter [Download PDF].
Weathergrams Installation
Open Space Visitor Center, 6500 Coors Blvd. NW, Albuquerque NM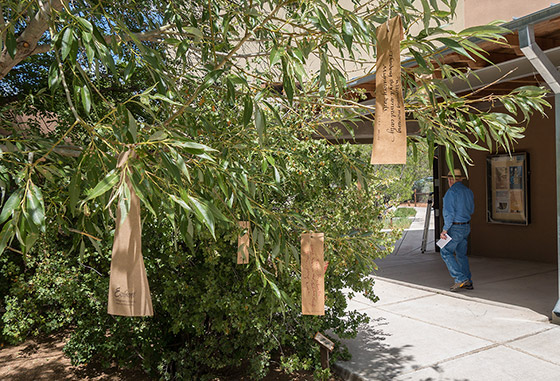 In conjunction with local poets, each year Escribiente members calligraph dozens of Weathergrams that are hung on trees around the Open Space Visitor Center grounds as a temporary art installation.
Contact Sharon Sharon to create Weathergrams for our 2023 installation!
Images from 2019 installation are included in the 2019-03 Newsletter. (View Photo Album on Facebook for the 2018 event.)
In conjunction with LIBROS Book Arts group, our members provide original artwork that is included in a handmade poetry chapbook. Illustrations for the 2022 chapbook (some are shown below) was provided by Esther Feske, Elizabeth McKee, Caryl McHarney, and Trish Meyer.
All proceeds from the Poets' Picnic event benefit Open Space Alliance, a nonprofit organization whose purpose is to promote public awareness and conservation of Open Space lands.



If you haven't been to the Open Space Visitor Center on Coors Blvd NW, check out their website.