Welcome to Escribiente
Meetings are held on the first Wednesday of the month, and we welcome guests and members of the public who have an interest in learning more abut the fine art of beautiful writing. Please see our Meetings page for full details and directions and download our Newsletters for reviews and photos from our workshops and programs.
Monthly programs take place in two sessions from August through November, and from February through June. Check our Meetings page for more details on upcoming meetings.
Wednesday, February 2, 2022 @ 6:30pm
Zoom meeting info will be emailed to current members. Please log in at 6:15pm.
Bister Inks
Presentation by Amity Parks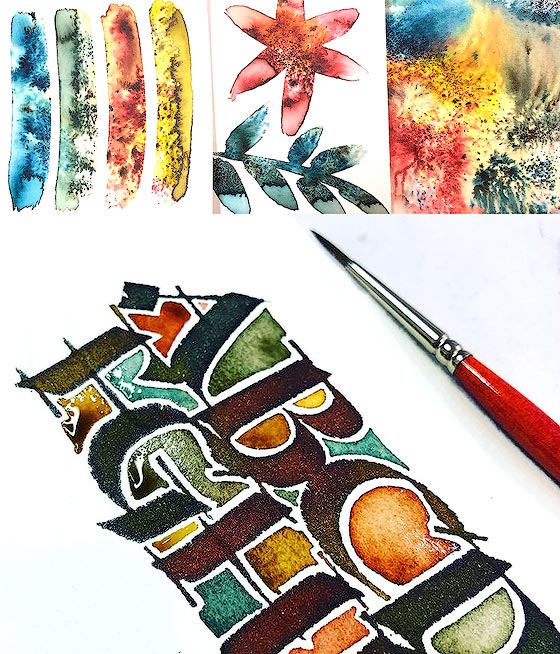 If you've been hearing about Bister inks and wondering what the fuss is all about, then join Amity 'live' on Zoom as she demonstrates different ways to use these rich and earthy ink powders. She will start with showing you how to mix them and use Bister inks in a broad-edged pen, and then she will touch on ways to create bold background effects.
Amity Parks is an artist and calligrapher living in Missoula, Montana. For many years she has been studying calligraphy in weeklong and private tuition classes with internationally renowned instructors. She holds a Bachelor of Fine Arts degree from the University of Tulsa, and a Master of Fine Arts degree from the University of Montana. Her work has been featured in national and regional exhibits and publications. She has been a long-term active member and teacher in her local and state calligraphy guilds and travels within the US and internationally to teach workshops, including serving on the faculty for multiple International Lettering Arts Conferences, for the SSIW Conference in Melbourne, Australia, the Midwest Art and Lettering Retreat, Letters California Style and LaRomita School of Art in Umbria, Italy. More information and artwork can be found on Facebook, Instagram and at her website, amityparkslettering.com
For more details and upcoming programs, please see our Meetings page...
Latest Newsletter
Back issues are available for download on our Newsletter page.
2022-1 (January)
Download Print Resolution PDF (14MB) (can also right-click and select Download Linked File)
Edited by Lynda Lawrence.
New Mexico State Fair Exhibition Gallery
Rebecca Wild (Small Art: Big Ideas) Workshop Review and Student Gallery
Local Calligraphy Classes
Lettering on trailhead sign
Bulletin Board
Cover art: Diane Inman
New Mexico State Fair 2021
We look forward to exhibiting at the State Fair in 2021! Take-in days for your artwork is Friday-Saturday, August 20-21. Volunteers needed; please contact Beth House to volunteer!
The New Mexico State Fair 2020 has been cancelled, so please enjoy 2019's show, held at Expo New Mexico.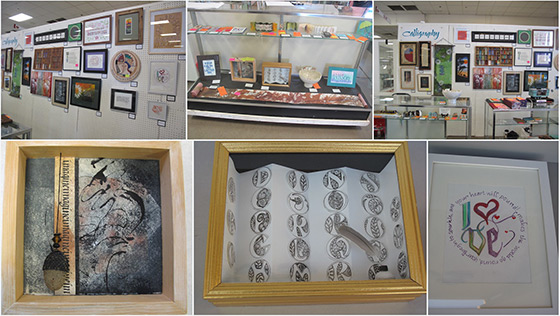 Escribiente members exhibit each year at the New Mexico State Fair in the Creative Arts Building during the show. Our Jurors for 2019 were Fred Yost and his wife Jaci Fischer.
View Slideshow of the 2019 entries on our Flickr account.
2020 Weathergrams Installation
Open Space Visitor Center, 6500 Coors Blvd. NW, Albuquerque NM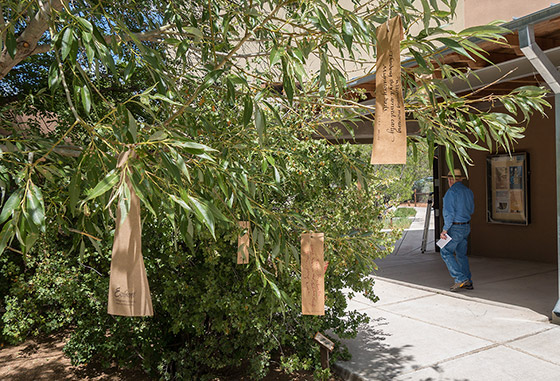 In conjunction with local poets, each year Escribiente members calligraph dozens of Weathergrams that are hung on trees around the Open Space Visitor Center grounds as a temporary art installation. Weathergrams for 2020 are hanging now!
Images from 2019 installation are included in the 2019-03 Newsletter. (View Photo Album on Facebook for the 2018 event.)
The Poets' Picnic event was cancelled for 2020, but our members still managed to create dozens of Weathergrams from local poets, which were installed at the Visitor Center in June. Thank you to Sharon Shannon and Trish Meyer for co-ordinating this event.
Also, in conjunction with LIBROS Book Arts group, our members provide original artwork that is included in a handmade poetry chapbook. Artwork for 2019 chapbook (shown below) was provided by Julie Gray, Caryl McHarney, Esther Feske, Janice Gabel and Trish Meyer.
All proceeds from the Poets' Picnic event benefit Open Space Alliance, a nonprofit organization whose purpose is to promote public awareness and conservation of Open Space lands.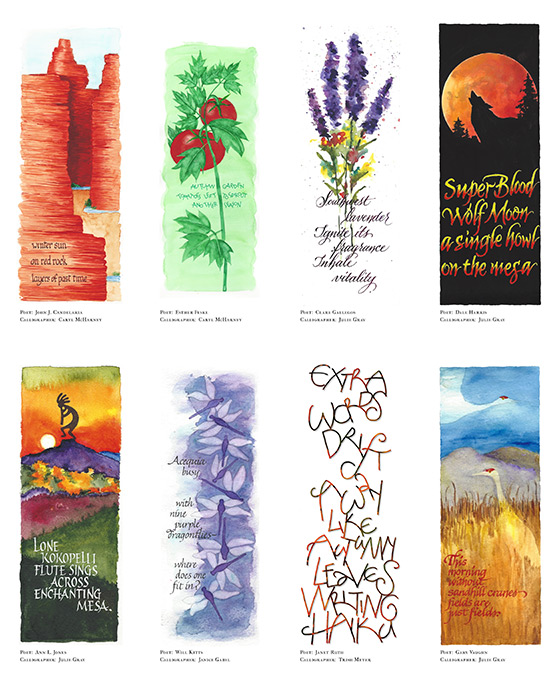 If you haven't been to the Open Space Visitor Center on Coors Blvd NW, check out their website.